Both concepts have been studied for centuries and humans have always maintained a curiosity about how all organisms are constructed and how they function (Wisegeek.com, 2003-2019).
Begining at progress report time (1/2 way through 2nd quarter of 2019) you will be introduced to late penalties on all assignments.  This is a 3% penalty on their total grade per day.  All students are given adequate time to complete assignments.
Please stay in contact with me if you will be out of school for a special length of time, so that we can make special arrangements for your assignments.
A person is standing, face forward, with palms turned backward. Is he/she in anatomic position?
What type of plane separates the nose and mouth into superior and inferior structures?
What abdominal region lies lateral to the hypogastric?
The elbow is ________ to the wrist?
The liver is ________ to the skin?
The  mouth is  ________ to the ear?
The term antebrachial refers to which body region?
The term crural refers to which body region?
The term antecubital refers to which body region?
If a physician makes an incision into the abdomen superior to the umbilicus and just inferior to the diaphragm, what abdominopelvic region was incised?
If a patient is complaining of lower back pain, what regions could be involved?
Which body cavity is associated with the lungs, and what are the names of its serous membranes?
Which body cavity is associated with the heart, and what are the names of its serous membranes?
What serous membrane lines the abdominopelvic cavity, and what are the names of its two layers?
 https://www.healthpages.org/anatomy-function/anatomy-terms/#comment-733837
Watch this video:
1.5 - 1.6

Homeostatsis
Click here for more information on how homeostatis works

unkown
Socratic.org
Dr. Anne Valle
 Clinical View:  Clinician's use the scientific method in diagnosing a paitent
Follow scientific method
Examine patient and gather data
             E.g., patient health history, complaints, current vital signs such as weight and   blood pressure
Initial hypothetical diagnosis
Order tests
Confirm, modify, or reject initial diagnosis
Definitive diagnosis
Homeostasis, Health, and Disease
SSRIs are often used to treat depression. However, they may also be used to treat many other conditions. These conditions may include:
Serotonin is one of many brain chemicals that transmit messages between brain cells. It has been called the "feel-good chemical" because it causes a relaxed state of well-being. Normally, serotonin circulates in the brain and then absorbs into the bloodstream.
Depression is linked with low levels of serotonin (as well as low levels of dopamine, norepinephrine, and other brain chemicals). SSRIs work by preventing your blood from absorbing some of the serotonin from your brain. This leaves a higher level of serotonin in the brain, and increased serotonin can help relieve depression.
SSRIs don't cause the body to make more serotonin, however. They simply help the body use what it has more effectively.
SSRIs are fairly similar in terms of how effective they are. They do vary slightly in what they're used to treat, their side effects, their dosage, and other factors.
https://www.healthline.com/health/depression/selective-serotonin-reuptake-inhibitors-ssris#how-they-work 
To Do: Due Monday 9/23
Complete the Challenge Yourself questions on page 27 of your textbook in your notebook
Complete Chapter 1 take-home test review
Chapter One Test Friday 9/25
Due Friday 9/27
APA Human Body Organ System paper  APA guidelines can be found in the menu above or click here

Citations and References click here

Rubric: 100 Points

Student completes a 2 page, typed with paragraph indentation and running head and only double spaced (APA format). -25 - points
Student includes all structures and functions of their chosen organ system - 25 points
Student demonstrates a clear and distinctive working relationship between their system and with one other organ system - 25 points
Paper includes a title page - 5 points
Paper includes a reference page in APA format - 10 points
Paper has proper parenthetical citations - 10 points
Virtual Lab Lesson One: Osmosis and Diffusion
The labs are completed in class.  If you have the means to complete these labs at home you may do so!
Due: 10/3
Anatomy and Physiology Coloring sheets for chapter one
Due: 10/7
In your lab books:  Study and complete the worksheets for exercise one and two
Exam: On the above work: 10/9
 Chapter 2.0
 Atoms, Ions, and Molecules
 A clinical chemist utilizes laboratory tests to evaluate blood samples, study DNA, and examine both tissues and cells.  The results of these tests provide more precise information to physicians that help diagnose and implement appropriate treatment (McGraw Hill 2e, 2016).
 2.1 Atomic Structure
At its simplist level of organization, the human body is composed of chemical structures that include atoms, ions, and molecules.   This chapter discusses the chemical composition (matter, atoms, elements ) and the position of each element in the periodic table (McGraw Hill 2e, 2016).
Copy and Answer the following questions in your notebook:
What subatomic particles determine the mass of an atom?
What subatomic particles determine the charge of an atom?
Diagram the atomic structure of chlorine---you will need its atomic number and the mass
slideshare.net
Copy and Answer the following questions in your notebook: 
Do isotopes represent the same element?
Do isotopes have the same number of protons, neutrons, or electrons? 
Describe a radioisotope:
 Chemical Stability and the Octet Rule
 A stable arrangement is attended when the atom is surrounded by eight electrons. This octet can be made up by own electrons and some electrons which are shared. Thus, an atom continues to form bonds until an octet of electrons is made.
 The noble gases rarely form compounds. They have the most stable configuration (full octet, no charge), so they have no reason to react and change their configuration. All other elements attempt to gain, lose, or share electrons to achieve a noble gas configuration. 
*https://chem.libretexts.org
chemistryismyjam.com
The inert gases, also called noble gases, are argon, helium, neon, krypton, xenon and radon. The inert gases are in Group 18, located on the far right of the periodic table. 
 Copy and Answer the following questions in your notebook:
Describe how elements are organized in the periodic table based on the valence electron number:
State the octet rule
 Substitute Day October 23 Wednesday 2019
While I'm out, please complete the assignment below:  If you cannot open the PPTs or the worksheets below, then go to the website: https://www.astephensscience.com/

Please scroll down to:
Chapter 2:  Basic Chemistry and Macromolecules         
Notes:
Basic Chemistry ppt Day 1
Basic Chemistry ppt Day 2
Chapter 2.1 Textbook Worksheet

Chapter 2.2-2.3C Textbook Worksheet

Molecular and Structural Formula
Molecular formula and structural formula of compounds represent atoms of different chemical elements present in the compounds. The molecular formula gives the ratio between these elements. Structural formula gives the relative positions of these atoms (pediaa.com/difference-between-molecular-and-structural-formula).
pediaa.com
Chemical bonds are the glue that hold molecules together. The type of chemical bonding affects the bulk properties of a material. To learn more than what our textbook will cover or to get a better understanding of chemical bonds and types of bonds, click on the link:  Khan Academy: Chemical Bonds
        Polar, Nonpolar and Amphipathic Molecules
An amphipathic (amfəˈpaTHik) molecule is a molecule that has both polar and non-polar parts. Phospholipids, for example, have non-polar fatty acid "tails" and polar phosphate "heads.  "Polarity" is an important property of molecules that determines how they will interact with other molecules. 
Polarity is created when some atomic nuclei in a molecule attract electrons more strongly than others. The result is that the negative charge of the electrons congregates more around one atom than another, while the other atom possesses a slight positive charge because the electrons are closer to the first atom.
Water is a good example of a polar molecule– its oxygen atom pulls atoms away from its hydrogens (https://biologydictionary.net/amphipathic/).

 m
molecular geometry: slideplayer.com
Osmosis and Diffusion
 Click here for great information on the process of osmosis and diffusion by Bio Teacher

Pedia.com
What is pH Balance?
The normal pH range for human blood is 7.35 – 7.45.  A blood pH below 7.35 is a condition known as acidosis and can produce confusion, loss of consciousness, and even coma in humans. A blood pH above 7.45 is called alkalosis and can cause uncontrollable muscle contraction – hand tremor, muscle twitching, and prolonged muscle spasms.  So, what exactly is pH? 
pH is a property of water solutions.  A small fraction of liquid water molecules break apart spontaneously freeing one hydrogen nucleus [H+].
This separation of the atoms of the water molecule occurs even when water is pure. That is one hydrogen nucleus, a single proton, breaks loose from the whole molecule. The remnant of the water molecule then carries a full negative charge and is called an hydroxide ion [OH-].
The formula for this reversible chemical process is:
H2O ↔ [H+ ] (an acid) + [OH– ] (a base)
Because of the way pH is defined, the number 7 means that there are 10-7 moles of [H+] in a liter of pure water.  It also means that there are more [H+] in a solution that is pH 3 than in a solution that is pH 7, because 10-7 is a much smaller number than 10-3.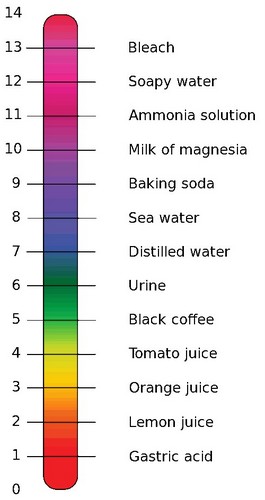 Posted on by Margaret Reece, PhD
 
 Universal Indicator pH Scale
 The effect of bleach on universal indicator by smart kid
I was preparing normal household reagent for the student to test on its pH. One of the reagent is bleach. I have searched in the net that bleach will gives a purple colour on the universal indicator since it is alkaline. When I tested it, it shows purple initially, but it changes from purple to green to yellow then finally colourless. This will mislead the student as they may not know what colour to record down since the colour keep on changing.
So I decided to find out why from the internet and realised that the universal indicator and any other liquid pH indicator are destroyed by bleach, rendering them useless for testing the pH. This applies to litmus paper and phenolphthalein too.
The only way to solve the problem is to adds sodium thiosulfate to the bleach solutions, it will neutralize the colour-removing effects of bleach and allow it to test with the liquid indicators. Thiosulfate reduces the hypochlorite (active ingredient in bleach) and in so doing becomes oxidized to sulfate. The complete reaction is:
4 NaClO + Na2S2O3 + 2 NaOH → 4 NaCl + 2 Na2SO4 + H2O
I have tried it out and it works. So in future if bleach is needed to test for its pH, neutralize it with sodium thiosulphate first before adding the liquid indicator.